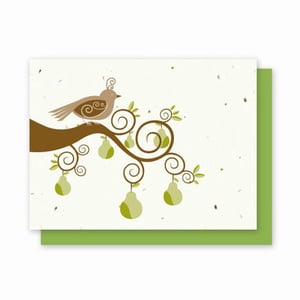 $

11.00 - On Sale
Designed by Design Lab Creative Studio and printed by Greenfield Paper Company.
Each card is made from handmade 100% recycled Grow-A-Note® natural white paper printed with soy ink. The Grow-A-Note® paper is embedded with a beautiful blend of wildflower seeds.
So you can grow these cards! Each set of 5 contains fine quality recycled envelopes that compliment the card. The back of each card is printed with easy planting instructions. The paper will recycle naturally into the soil as the seedlings grow!